--
Sept 2008 - Steve played for the launch of Johnnie Walker King George V Blue Label
Whisky at Hampton Court Palace. Only 20,000 bottles at £450 each produced.

"I Didn't get a taste but they tell me its very good." .. Pipe Major Steve Duffy
Jan 2008 - Steve plays Gloucester Millennium Hotel with "Red Hot Chili
Pipers" for corporate event. "Stuart, Willy and the lads are really up for the
craic! Look forward to playing with them again in April".
Jan 2008 - Steve leads Scots Guards Association Pipe Band and Caledonia
Highland dance team at Cabaret performance with Band of Scots Guards
held at Westminister Hall, Palace of Westminister for The Right Honorable
Michael Martin MP "speaker of the House of Commons" and 200
Commonwealth and Foreign Office delegates. "Privileged, 1st time in 900
year history that Band, Pipes and dancers have ever played in the palace
of Westminister. Dancers' were fabulous, stole the show!".
Nov 2007- Return to the Falkland Islands after 25 year absence. 250
veterans make the 8,000 mile pilgrimage to honour the memory of those
who didn't make it. 15 former Scots Guardsmen in all. Steve, Peter
MacInnes and Ian "Jock" Davidson play for memorial services and less
formal social events in the local downtown Port Stanley pubs."A humbling
and emotional experience. Playing on Tumbledown Mountain in a blizzard
was no picnic but a lot easier than 25 years ago".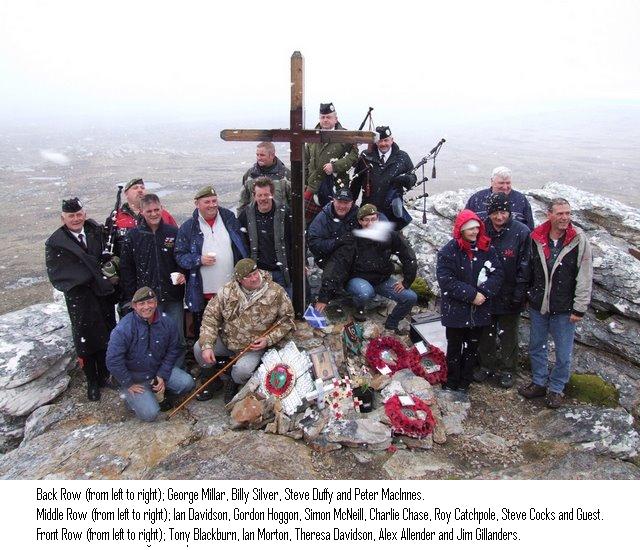 July 2007 - Buckingham Palace Garden Party for the "Not Forgotten
Association" in the presence of her Royal Highness the Princess Royal
."Cracking cucumber sandwiches".
July - 2007 - Steve leads the Scots Guards Association Pipe Band at the
"Best of Britain" concert with Band of Irish Guards at kempton Park Race
course. "Loads of pomp and circumstance".
June 2007 - Steve takes part in the 25th Anniversary comeration parade on
Horse Guards parade, playing with old pals Peter MacInnes, Brian Donaldson
, Albi MacKinnon and Ian "Jock" Davidson. "A real emotional experience".
Sept 2006 - "Music on Fire" Sandhurst Military Academy. Steve Duffy
leads 3 pipers of the Scots Guards Association playing with the massed
bands of the Guards Division and plays solo pipe part to sell out audience
of 10,000 each night. "Spectacular fire works".